Vantaa Shelter Association
Secure, comfortable and practical premises
The Vantaa Shelter Association works to prevent violence, help victims of domestic violence and to promote safety in individuals' close personal relationships.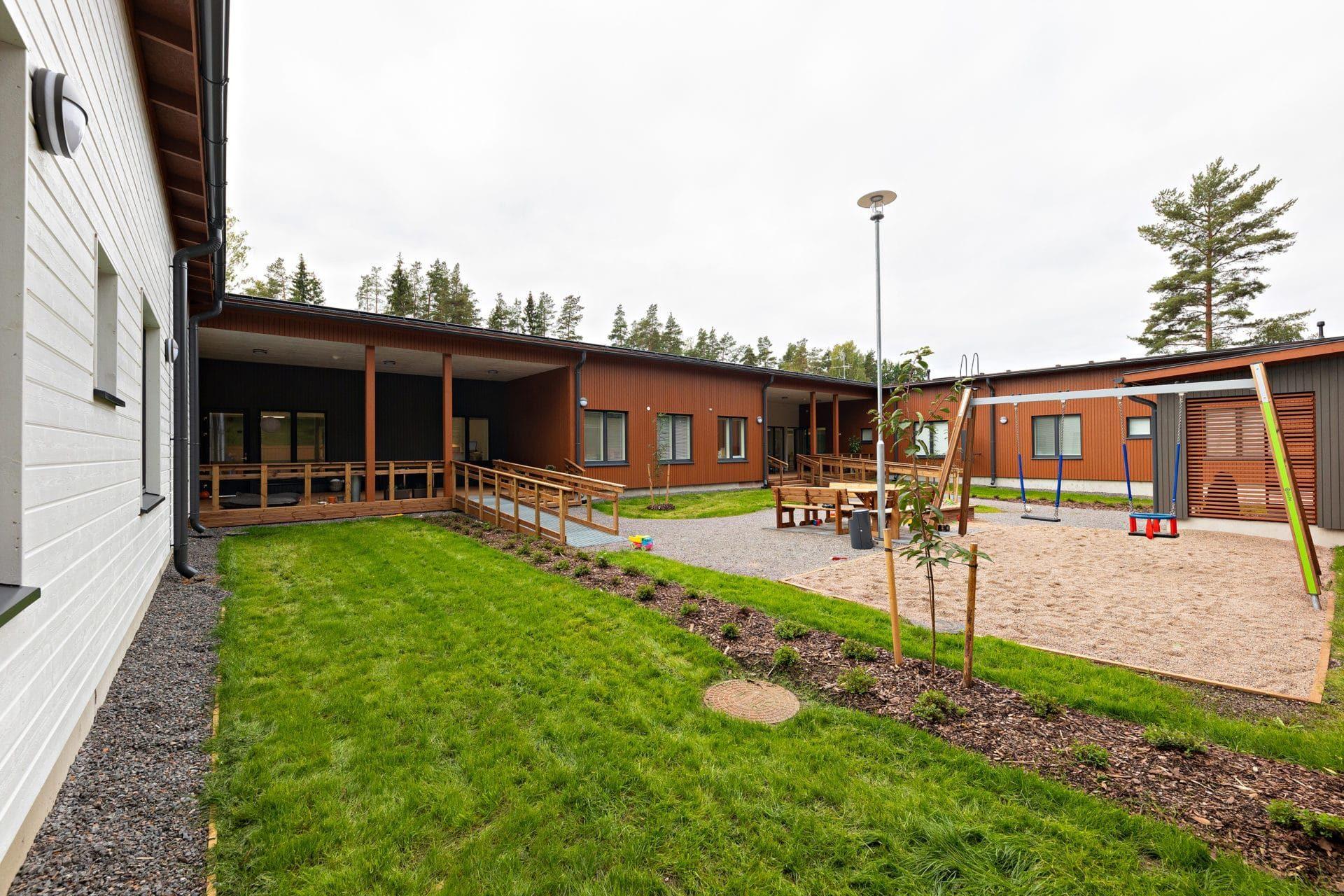 Vantaa Shelter Association
Client Vantaa Shelter Association
Tyyppi Shelter
Location Vantaa
Vacancy count 14 family rooms
Completion year 2019
The association opened a new shelter in Koivukylä, Vantaa, in September 2019. The project was innovative in several ways: it is one of the first properties purpose-built to serve as a shelter and, as such, the first shelter construction project for Hoivatilat as well.
After a few months of operations, Kristiina Väänänen, executive director of the Vantaa Shelter Association, is happy with the project's results:
— The facility has turned out to be very functional, the construction went well and the selected solutions are excellent. Some small fine-tuning has been necessary, as it always is during a deployment phase, but we have been very pleased, says Väänänen.
The shelter is around 850 square metres in area, and its facilities are divided into two identical departments. Both departments have seven family rooms with toilet and bathroom facilities, in addition to a shared kitchen and living room and two offices for employees. A sauna, a professional kitchen and staff facilities are located between the departments. The pleasant backyard has a playground with swings and two large patios.
In the project planning, security and safety were given centre stage. The building has external security cameras, and the property and employees have various security systems.
Customer-oriented partnership
Hoivatilat was selected as the partner for the project via a competition for building rights arranged by the City of Vantaa. The Vantaa Shelter Association took part, as a lessee, in the tender competition procedure. According to Väänänen, Hoivatilat was chosen as a partner due to its versatility and genuinely customer-oriented approach.
— The plan was not only viable, but also modifiable. What won us over was how everything was negotiable and could be tailored to suit our needs as an association. The price played a part too, of course, but it was not one of our primary selection criteria, says Väänänen.
The plan was modified as the project progressed. Väänänen says that during the project, Hoivatilat took the association's suggestions into consideration and reacted to them quickly. When modifications or, for example, some small changes related to interior design were requested, Hoivatilat implemented them well.
Cooperation was close and easy. Hoivatilat personnel were very good at explaining to us laymen what options we have, and what can and cannot be done.
Väänänen says the new shelter has garnered a lot of interest among professionals in the field, and people even come from other countries to visit the building. For a small organisation operating with public funding and donations, the construction project was a massive undertaking.
— Getting involved with such a big project was a very brave decision from our board of directors. Now we can be sure it was the right thing to do. The three musketeers – developer, contractor and building user – worked together excellently, and the work resulted in a modern, comfortable and home-like facility, says Väänänen.