Sisunaukio Service Community
The service community enhances the idyllic Härmälänranta
A historically valuable building in Tampere has gained a new life as a diverse and communal service community. The former Valmet aircraft factory's management building underwent a major renovation. The property now offers enhanced assisted living and rehabilitation services, early childhood education and housing.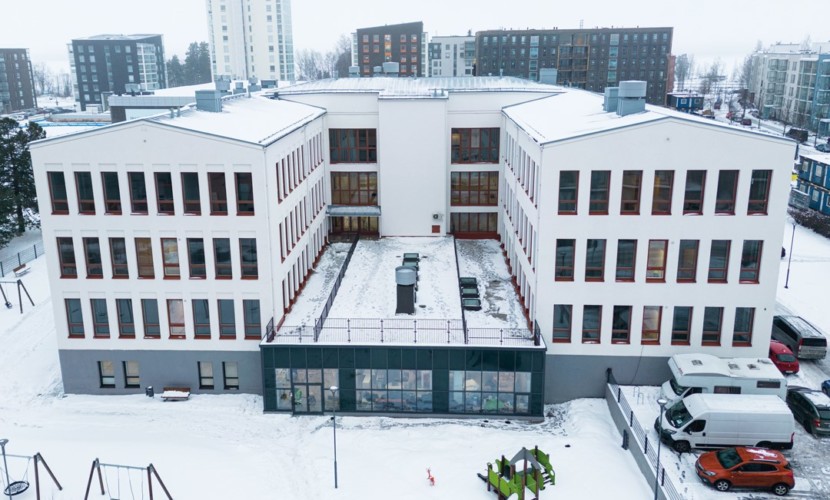 Sisunaukio Service Community
Client Ikifit Oy, Touhula Päiväkodit
Tyyppi Service Community
Location Tampere
Vacancy count Nursing home 60, Day care centre 70
Completion time December 2022
Located a few kilometres from the centre of Tampere, Härmälänranta has grown and developed into a pleasant residential area in recent years. The hub of the area close to nature is Sisunaukio, which also once served as the aircraft factory's headquarters.
The top floor will include high-quality communal housing, and street-level facilities are reserved for early childhood education. The day care centre for approximately 70 children is designed to work for groups of various sizes. The centre's L-shaped yard area spreads out on two sides, and the children's activities can be monitored, for example, from the deck terrace of the Härmälänranta Wellbeing Centre, located above the day care centre.
Functional and charming group home facilities
The Härmälänranta Wellbeing Centre, owned by Tampere-based Ikifit Oy, comprises two group homes, Vuokko and Wellamo. They have a total of 60 rooms, cosy common areas, a distribution kitchen and facilities for rehabilitation, which is a strong element in Ikifit's services. The layout is enhanced by a nice sheltered yard and a location in close proximity of excellent outdoor possibilities.
Ikifit's CEO Leena Laranne says that when considering the project, she often thought about how to make the old building functional by current standards. Now Laranne says that careful planning and implementation made it possible to have just the right facilities for them, albeit with higher rooms and wider spaces than usual.
– It's great to offer housing services in a historically valuable building, in one of the most sought-after areas in Tampere. There are a lot of potential employees living here, and it's easy for the residents' loved ones to drop by, shares Laranne.
As a native resident of Tampere, Laranne is also delighted that the new era of the building was launched quite a long way from Tampere: the architectural design was handled by Neva Architects and the main contract was drafted by Aki Hyrkkönen Oy.
An inspiring and valuable project in many aspects
The office building, built between 1936 and 1961, is located in the central block of Härmälänranta. In recent years, the building has been used by companies operating in the area, as a lunch restaurant and construction site office, for example. It has never been empty, but now it has a far-reaching purpose that increases the value and vitality of the area.
An extensive renovation of the office building was carried out. Hoivatilat's construction manager Pertti Nupponen says that the repair rate is over 80 per cent: the foundation, frame, exterior wall and load-bearing structure of the roofing deck were preserved, while everything else has been replaced.
– The building supervision in Tampere found the site to be very demanding, so the head designer was required to have experience of similar sites. The retained structures caused compromises in the design solution that would not be possible in a new building. Special care was also taken in investigating what the old structures contain," Nupponen explains.
Nupponen adds that when considering energy efficiency, it is clear that ideal solutions cannot be found in the old structures of renovation sites. In a professional sense, he describes the object as laborious, but very interesting.
– A really great and inspiring project. We have created a purpose for a building that no longer served anyone properly, but still needs to be preserved. At the same time, we are improving the living environment in question.
Project Development Manager Olli Haapio, who was responsible for the development of the site, is also delighted with the handsome and historically significant complex with an excellent location. Haapio says that it is rewarding to bring to the area the services that are genuinely needed there, thus contributing to a better society.