Science day care centre Loimu
A log day care centre in Liminka with a fast schedule
Liminka is one of the fastest growing municipalities by population in Finland. The day care centre project, which is important for the services of a developing municipality, was launched in the beginning of 2022, and six groups of children will play in high-quality, comfortable, and safe facilities as early as August of the same year. With such a fast schedule, a service network will be developed in Liminka, municipality south of Oulu, in cooperation with Hoivatilat, Pilke day care centres and the municipality.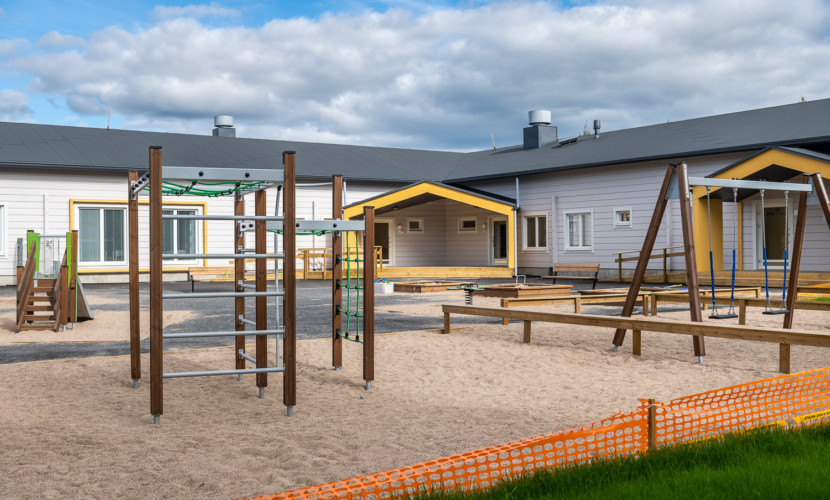 Science day care centre Loimu
Client Pilke päiväkodit Oy
Tyyppi Day care centre
Location Liminka
Number of children 99
Completion time 07/2022
In the rapidly growing municipality of Liminka, it was calculated at the end of 2021 that the need for day care places will soon be 10–15 groups more than the municipality has to offer. It was decided that about half of the need will be done as the municipality's own investment, and the other half as a rental model purchase, with a private service voucher unit.
Hoivatilat and Pilke päiväkodit proved to be a suitable partner for the municipality, which took over the implementation of a 6-group day care centre in Tupos in the new residential area of ​​Saunaranta. The project schedule was ambitious; the project was closed in January 2022, and the new facilities will be finished in August.
Construction manager Tuomas Alanko from Hoivatilat says that the construction contractor AHS Control has played a major role in the exceptionally fast-paced project.
– We have implemented several projects with them all over Finland. We know each other's policies and criteria, among other things, in terms of quality, which has made this timetable possible. The co-operation also plays a role with the municipality of Liminka, says Alanko.
More log buildings to public construction
Log construction was decided for several reasons: Pilke päiväkodit invest in solid wood solutions for health reasons among other things, and Hoivatilat wants to invest in modern, energy-efficient construction. Together we have built log day care centres to Kontiolahti and Klaukkala.
Pilke says that logs are a response to the rapidly growing demand for clean indoor living space for children with the lowest possible carbon footprint. In the log day care centres, children can enjoy the fresh indoor air and the peaceful and calm atmosphere created by the solid wood constructions.
The benefits of logs also include acoustics. And although log buildings are fast to build, it is a low-risk single-material building material. It is no wonder, then, that more and more log buildings are also being brought into public construction in a country that is one of the pioneers in the log building industry.
In terms of investment calculations, logs are a bit more expensive building material, but the costs must be considered over the entire life cycle of the building. Saunaranta's log day care centre, which is heated by geothermal energy, is an energy-friendly A-energy class building.
Fast-paced, high-quality and easy don't usually fall into the same sentence when it comes to building, but this project makes an exception.
– With a project that is progressing very fast, but still smoothly, we are implementing healthy, functional, and comfortable early childhood education facilities in a growth area, in a visible location and with good transportation connections, concludes Tuomas Alanko.
Thus, starting from August, Pilke Science day care centre Loimu will offer high-quality and child-oriented early childhood education for children aged 0–5 in modern, well-designed and implemented facilities.