Nursing home and rehabilitation centre
Care, rehabilitation and housing in a hybrid building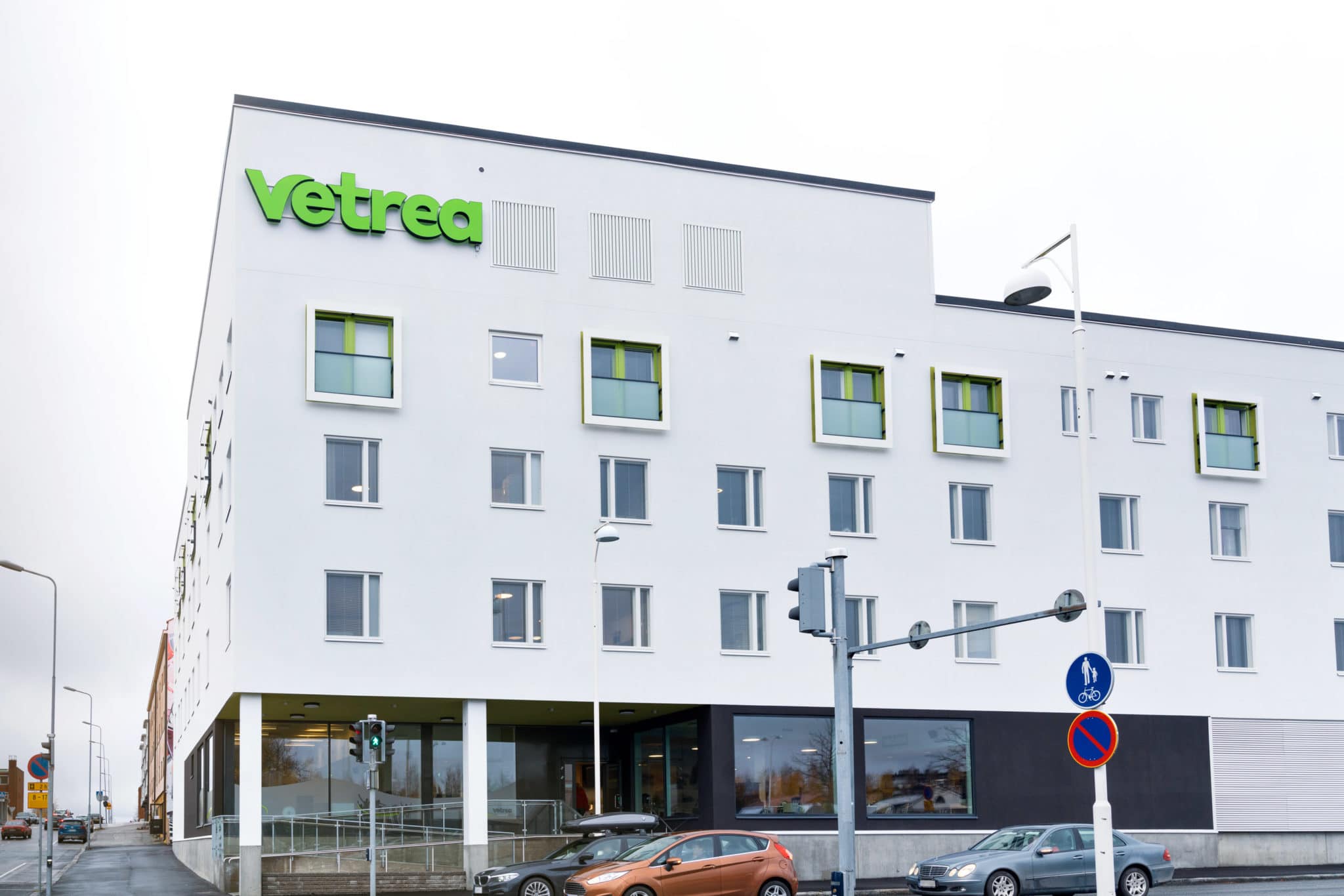 Nursing home and rehabilitation centre
Client Vetrea
Tyyppi Nursing home and rehabilitation centre
Location Iisalmi
Tenant count 40
Completion time September 2020
The rehabilitation and care services provider Vetrea needed modern facilities in Iisalmi. In addition, at the general level, the city had long needed a facility for the elderly with diverse housing services. Now a new building accommodates both Vetrea's premises and the cities rental apartments next to the market square.
The project is carried out by Hoivatilat, which is now leasing the first three floors of the building to Vetrea. In addition to housing services, the extensive service offering includes a restaurant and a wide range of wellbeing and sports services, with a state-of-the-art gym and a therapy pool. The property's services are open to all the town's residents, and Vetrea also offers a variety of services provided to elderly people living at home, such as catering and cleaning services and home nursing.
According to Vetrea managing director Laura Airaksinen, because the wellbeing and safety of residents, customers and staff played the most decisive role in the design of the premises, these groups were closely involved in the design process. Airaksinen adds that in Vetrea's field, rehabilitation in particular will develop and change a great deal over the coming years.
The designers therefore had to look as far into the future as possible. Diversity, adaptability and flexibility were essential factors guiding the choices and plans that were made together.
High-quality, modern premises are one of the cornerstones of Vetrea's operations. Airaksinen is also delighted with the new premises in Iisalmi due to its central location. Many of the city's residents have already enthusiastically welcomed the new facilities and paid a visit to see for themselves.
Apartments for the elderly complete the hybrid building
Petterinkulma, a rental housing company owned by the City of Iisalmi, had long considered a solution for leased housing for the elderly. Petterinkulma joined Hoivatilat's and Vetrea's project when the city wanted the building rights to the plot it had provided to be used as efficiently as possible.
Hoivatilat had 17 apartments built on the highest story of the hybrid housing building. These are mainly single-room and two-room apartments, and were sold to Petterinkulma on a turnkey basis. The well-equipped and accessible apartments are intended solely for the elderly, while a wide range of services can be found on the ground floor. Petterinkulma managing director Mikko Kauppinen is very satisfied with the solution. Having two owners in the same property had a considerable effect on the project, he says. Nor could the model be adopted from elsewhere, given that no similar projects have been carried out before. Construction proceeded in a good spirit of collaboration in all respects.
Kauppinen also encourages other municipalities to be bold in embarking on new projects and rethinking their existing operating models.
The demographic change Finland is facing is so momentous that preparing for it with innovative solutions is essential. In this light, this multi-actor hybrid project proved an excellent choice.