Punapaula music-oriented day care centre
A day care facility made of logs is beautiful and practical
Log construction is also an increasingly popular way of implementing public service buildings. Hoivatilat implemented functional, healthy and comfortable facilities in Vaajakoski, Jyväskylä, for Punapaula, which is the new unit of the Priimi music-oriented day care centre.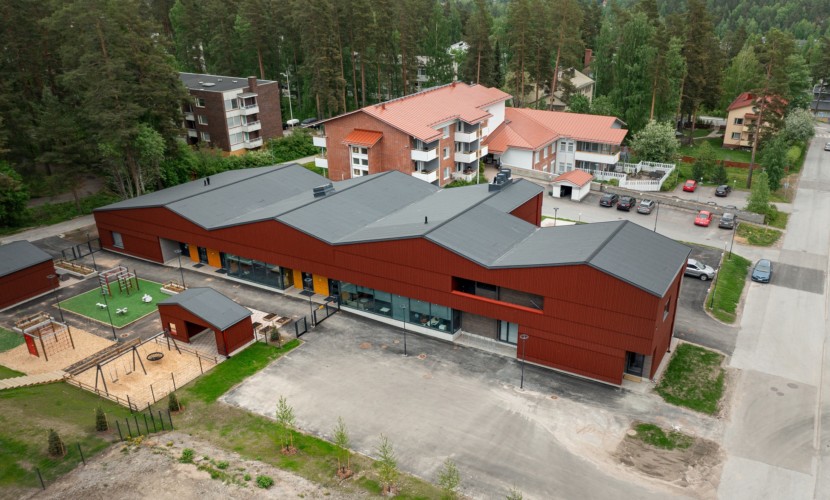 Punapaula music-oriented day care centre
Client Musiikkipäiväkoti Priimi Oy
Tyyppi Day Care Centre
Location Jyväskylä
Vacancy count 91
Completion time 12/2021
Minna Muona, entrepreneur and director of the Punapaula day care centre, founded two Priimi music-oriented day care centres in Kuopio with her sister some years ago, and is delighted with the expansion of the operations to Jyväskylä.
– We have motivated staff at Punapaula who work in wonderfully functional and healthy premises. The new day care centre and working environment have been polished to everyone's liking in an enthusiastic and positive atmosphere.
Punapaula's everyday life is organised by music in music workshops and dance classes. A good stage for these and other activities and games is the centre's own large gymnasium with a climbing wall, and it is nice to play inside walls made of logs. Wooden surfaces create a cosy atmosphere, which is complemented by the soft acoustics created by logs. Both children and staff spend several hours a day in the premises, so clean indoor air and appropriate humidity, both properties of logs, are also especially convenient for a day care centre.
The log building is ecological to use. Even though the logs breathe, they can be made energy-efficient with the right sealing solutions. Contrary to popular belief, log structures are quite fire-resistant and are therefore also well suited for public construction. Therefore, a modern log building is a healthy, energy-efficient and high-quality option for demanding operations.
– Even though the facilities are new, it's very warm here. The small group and shared spaces are functional and we also have quiet spaces. Beautiful and practical in the same package, describes Muona.
Investments have also been made in staff premises: planning has its own room, where, for example, discussions with parents can be held – in many daycare centres, they are carried out in the staff coffee room, for lack of a better space.
In the yard, the new and the old are in harmony. Swings and climbing frames are located in the shade of tall pines, and alongside the built equipment there are natural elements. In the spring, boxes were placed in the yard, and everyone has been watching the growth of seeds into peas and summer flowers.
In the location of Punapaula, it is noteworthy that the school Vaajakumpu yhtenäiskoulu is conveniently located on the other side of the street, and it is attended by most of the children and young people in the area. Many Punapaula children also end up there in a familiar landscape.
Priimi's two day care centres in Kuopio also operate in buildings built and owned by Hoivatilat. Minna Muona is very pleased with the cooperation.
– Even though we are a small local actor, communication works well, and wishes are taken into account. It feels safe to collaborate with Hoivatilat.