Nursing home Mainiokoti Siiri
Interior decoration makes nature part of everyday life in a senior home
Senior home Mainiokoti Siiri's planning objectives were to build a homelike, inspiring and safe nursing home that takes the limitations of the inhabitants into account in a comprehensive way. One of the objectives was also to make nature part of the everyday life of the inhabitants. In Mainiokoti Siiri, the inhabitants, as well as the employees, can enjoy nature both in and out of doors.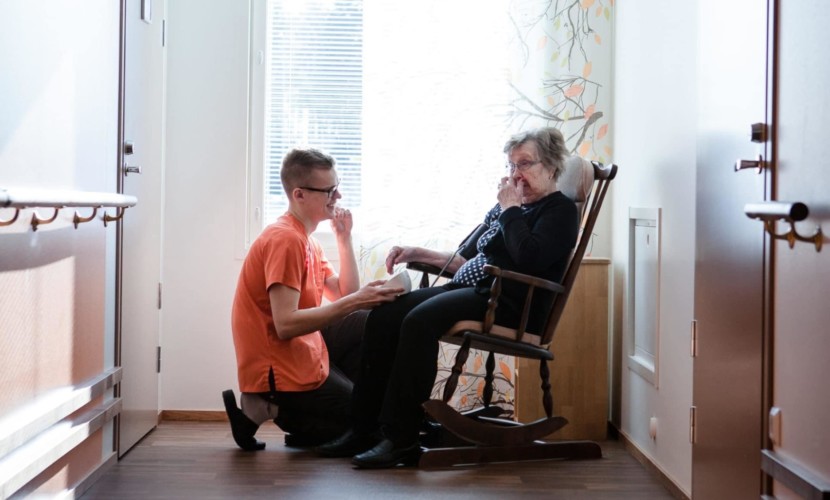 Nursing home Mainiokoti Siiri
Client Mehiläinen
Tyyppi Nursing home
Location Oulu
Vacancy count 30
Completion year 2014
When designing a nursing home, great attention must be paid to safety, accessibility, interior solutions and materials.
– It is important, for example, to take into account the capacity to recognise the colours and spaces of inhabitants with impaired memory. In the best case, the facilities can even activate the inhabitants and provide inspiration to them. Mainiokoti Siiri's decoration follows Mainio Vire's (now Mehiläinen) new interior design plan, which makes natural elements part of the interior decoration, says area manager Marko Hanhisuanto of Mainio Vire.
– Birch trees, for example, line the corridor to the sauna, and wallpapers with pictures of domestic plants create a homelike atmosphere, the nursing home's director Sanna Timonen says.
Because of their condition, some of the inhabitants of the home cannot go outdoors, Timonen reminds. Interior decoration can be used to provide an element of nature to their everyday lives.
The nursing home is named after the Finnish actress Siiri Angerkoski and is located in the centre of the suburb of Jääli next to Satumetsä day care centre and the Tuokkosenmäki park.
Operating model created through collaboration
Mainiokoti Siiri is an excellent example of how long-term collaboration between the developer and the service provider pays off. The nursing home started operation in December 2014.
– Hoivatilat was actually able to complete the project ahead of schedule when we found out that the inhabitants wanted to move in as soon as possible, says Marko Hanhisuanto of Mainio Vire.
Mainiokoti Siiri is the latest example of the long-term collaboration between Hoivatilat and Mainio Vire.
– Mainio Vire's operating model for nursing homes has been shaped gradually by the collaboration, Timonen and Hanhisuanto tell us.
The model has already been put to test several times, and has been found good.
– Virtually the only thing that changes is the number of occupants and group homes, Timonen clarifies.
– It is wonderful to have a partner who specialises in construction projects that meet our demands so precisely and has such great collaboration skills, Hanhisuo states with satisfaction.