Kotola Saarenkylä day care centre
Day care centre built under turnkey principle
In autumn 2015, day care centre entrepreneur Mari Jolanki was feverishly looking for solutions for building new day care facilities quickly. The city of Rovaniemi had decided to privatise three day care units, two of which had been allocated to Mari Jolanki's Päiväkoti Kotola day care centre.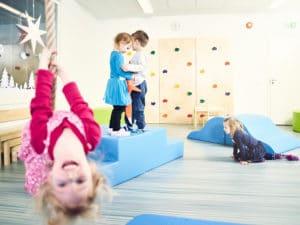 Kotola Saarenkylä day care centre
Client Päiväkoti Kotola
Tyyppi Day-care centre
Location Rovaniemi
Vacancy count 132
Completion year 2016
 The initial plan was to build a four-group day care centre next to the existing unit.
— We tried to find a partner among the local construction firms but were disappointed time and time again. With Hoivatilat, we were on the right track right from the start. We met Juhana Saarni for the first time in February 2016, and construction work started in May. In the end we decided to build two buildings, both for four groups, Mari Jolanki summarises the phases of the project.
Turnkey solution – including funding
Mari Jolanki values Hoivatilat's readily available facility solutions and the turnkey delivery that also included project funding. The short time span was a deciding factor in the project. Construction started in May, and the day care centre opened in November.
With Juhana's aid, the project launch and the entire construction stage went very smoothly. Hoivatilat's chief of construction Ari Hyvärinen also made an impression with his dependability. We have felt all the time that Hoivatilat's people side with the customer.
Chef services and operations with a family focus
The new facilities are equipped to a high standard. The courtyard has a dedicated sports field and more playground equipment than ordinary day care centres.
— Both of the two day care centres are now full, and we have many families waiting to get in. They are clearly attracted by our new facilities", Jolanki tells us.
Kotola offers a rich palette of activities for the children, including a swimming school, sports school and ice skating school. The children's families are invited to many events, such as the Finlandia skiing competition this winter.
— We want to get to know the children's families.  We always tell the parents what the child's day has been like. We want to give more than just a summary of the daily routines, so we also tell what the child has learned during the day.
We also have a chef who prepares the meals for the day care centre, and the families can order take-home foods from the chef.
—  Although we have a lot of different activities we also want to leave as much time for free play as possible, Jolanki sums up.