Areena sports day care centre
Activating the children
The aim of active day care is to introduce children to a way of life that promotes physical activity, exercise and the joy of sports. Active day care centre Areena was built in an excellent location in Espoonlahti. Many sports services, including an ice hockey arena, an indoor swimming pool and a sports arena, along with the Hannus forest and lake, seaside and a great wintertime downhill sled slope, are located near the unit – all within walking distance.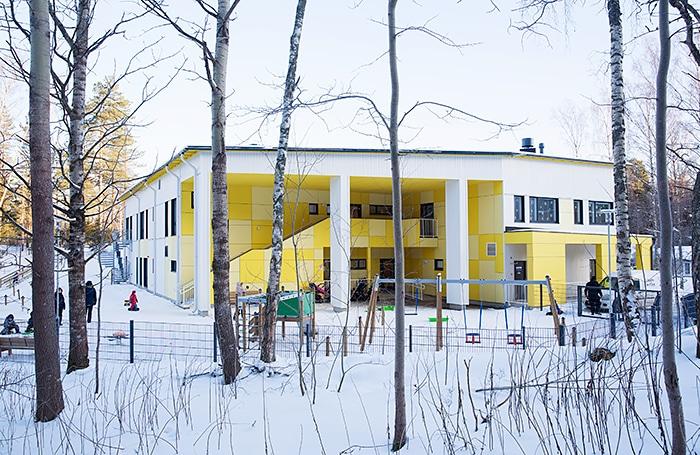 Areena sports day care centre
Client Norlandia Päiväkodit
Tyyppi Day-care centre
Location Espoo
Vacancy count 120
Completion year 2017
Indoors, a range of equipment that promotes physical activity, such as hoops, ropes, stall bars, a climbing wall, a soccer pitch and basketball court, is available to the children. The courtyard also encourages the children to participate in physical activity with a running track and an obstacle course painted onto the pavement. In connection with the courtyard is a separate, fenced-off 900 m² adventure forest with a hilly terrain that challenges young adventurers.
Areena, an impressive two-storey day care centre, is part of Norlandia Päiväkodit (in Finnish) day care centres (formerly Tenava-päiväkodit). The day care centre has six groups and capacity for 120 children.
— In line with the active day care concept, the colour palette of the day care centre is bright and happy. The sunny yellow colour of the facade continues on the interior walls. The great thing about a two-storey day care centre is that one building can, in a way, house two smaller day care centres. This makes the days more peaceful and quiet for the children, says regional director Katriina Kärki, Norlandia Päiväkodit.
Privatised early education supports the city's service offering
— Privatised early education supports Espoo's municipal early education service network in a positive way. Espoo is a rapidly growing city, and demand for early education services is constantly increasing. The private sector is able to launch construction projects much faster than the city, and private day care centres can explore different pedagogic approaches with more flexibility. A great example of this is the Areena day care centre that emphasises sports and physical activity, says Virpi Mattila, the city's director of Finnish-language early education.
Collaboration in several day care centres
Norlandia Päiväkodit has completed several day care centre projects with Hoivatilat.
— They have always listened to our wishes, our collaboration is great and Hoivatilat has also taken our requests into account in structural matters. However, the site and the directions the facades face towards impose some limitations on what solutions are workable", Kärki sums up the project's design stages.